Mission | Purpose | History | Current Membership
Governance | Funding County Water Quality Programs | Water Resources Board
Frequently Asked Questions about the Finger Lakes - Lake Ontario Watershed Protection Alliance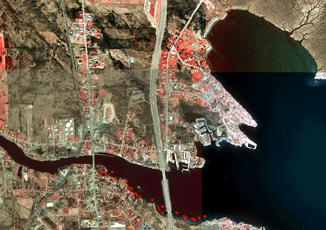 Special Projects Fund Awarded for water chestnut management on Oneida Lake
The mission of the Finger Lakes - Lake Ontario Watershed Protection Alliance is to facilitate processes that encourage watershed partnerships and implementation of action plans to protect and enhance water quality based on:
local needs assessmen
holistic approache
information exchange and public education
measurable goals and milestones
The purpose of the Finger Lakes - Lake Ontario Watershed Protection Alliance is to protect and enhance water resources by:
promoting the sharing of information, data, ideas, and resources pertaining to the management of watersheds in New York's Lake Ontario Basin;
fostering dynamic and collaborative watershed management programs and partnerships; and
emphasizing a holistic, ecosystem-based approach to water quality improvement and protection.
A major tenet of FLLOWPA is grassroots programming. Water quality problems are defined and solutions are developed and implemented at the local level. Through participation in the Alliance, member counties develop a more regional perspective that informs local programming and encourages cooperation.
The Finger Lakes - Lake Ontario Watershed Protection Alliance grew out of the former Finger Lakes Aquatic Vegetation Control Program (AVCP). The AVCP was initiated in 1984 in Cayuga County, New York, in the heart of the Finger Lakes Region, to address surface water quality concerns. The program subsequently grew to include 18 area counties encompassing a multitude of water resources: eleven Finger Lakes; many smaller lakes and ponds; the Genesee, Oswego and Seneca River watersheds and tributaries, connecting channels, and Lake Ontario direct drainage areas. When the AVCP was created, there was significant concern about water resource impairments stemming from cultural eutrophication of the region's lakes and waterways. Dense growth of nuisance aquatic vegetation altered fish and wildlife habitat and diminished the aesthetic, recreational, and economic values of water resources. The control of nuisance aquatic vegetation was a major program emphasis for several counties during the 1980s. Through the 1990s, the program became more watershed-focused, with an emphasis on pollution prevention through control of non-point sources. In 1994, a proposal was developed by the member counties to more explicitly identify holistic, grassroots watershed management as the primary focus of the existing program. This proposal was implemented during 1996, resulting in a new program name, the Finger Lakes - Lake Ontario Watershed Protection Alliance (FLLOWPA), and a membership including 25 New York State counties wholly or partially in the Lake Ontario watershed. These 25 counties are divided into three regions which are interrelated by geography or shared watersheds.
FLLOWPA membership includes the following New York State counties wholly or partially in the Lake Ontario drainage basin: Allegany, Cayuga, Chemung, Cortland, Genesee, Hamilton, Herkimer, Jefferson, Lewis, Livingston, Madison, Monroe, Niagara, Oneida, Onondaga, Ontario, Orleans, Oswego, Schuyler, Seneca, Steuben, Tompkins, Wayne, Wyoming, Yates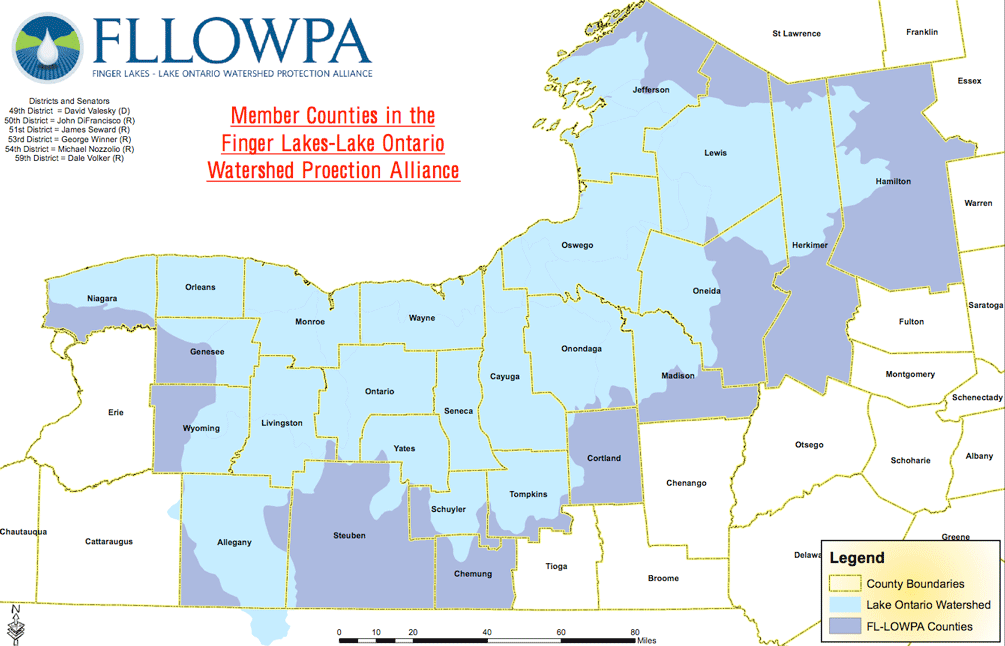 The governing body of FLLOWPA is the Water Resources Board (WRB). Each participating county selects, through its local processes, one voting member to serve on the WRB. The WRB is comprised of county representatives from multiple disciplines and agencies, including Soil and Water Conservation Districts, County Planning and Health Departments, and Water Quality Management Agencies. The Water Resources Board holds regular meetings of the Full Board (25 Counties, twice per year); Regional Boards (twice per year); and seven-member Executive Committee (six times per year). The WRB makes decisions by consensus, or majority vote when necessary. The WRB employs a part-time staff of two and was housed at the Finger Lakes Tourism Alliance until 2012, at which time it moved to the Oswego County Soil and Water Conservation District office at 3105 NYS Route 3 in Fulton, New York 13069.
The major source of funding for FLLOWPA is provided through the New York State Environmental Protection Fund (EPF), through the support of a committed delegation of legislators representing the 25-county region and the Executive Office. FLLOWPA's most recent appropriation was $2.5 million for SFY 2022-23. Each county receives an equal share of funding to carry out water quality programming. The program has been heralded as unusually cost-efficient: ninety-five percent of funding has been passed through to counties for implementation of projects, with less than five percent retained for administration and outreach activities coordinated by the Water Resources Board. Member counties contribute staff and other resources to the program on an in-kind basis. In many counties, FLLOWPA funds leverage additional monies through grants and local appropriations, typically estimated at over $2 million for each year of FLLOWPA funding.
Each member county of FLLOWPA develops an annual plan of work, called the program narrative, to be funded by FLLOWPA. All narratives are reviewed by the New York State Department of Environmental Conservation Division of Water for technical merit and alignment with state water quality objectives. Counties frequently coordinate FLLOWPA work plans with strategies developed by county water quality coordinating committees, or with other comprehensive water quality plans or watershed programs at the local level. Program narratives include projects in the following areas:
water quality research, monitoring, and planning;
implementation projects to reduce nonpoint source pollution and/or alleviate resource impairments; and
public education.
Cross-county projects, such as joint watershed plans for lakes in multiple jurisdictions and regional research projects have resulted from counties' associations through FLLOWPA, and are encouraged where appropriate. Final reports are written by counties for each year of funding.
FLLOWPA programs meet local water quality needs in the 25 member counties that often do not qualify as priorities under state and federal programs and yet are important to local communities and economies. Collectively, FLLOWPA programs have a regional impact that aid state agencies, like New York State's Departments of Conservation and Health, in meeting mandated water quality objectives and standards. FLLOWPA acts as an essential bridge between local water quality needs and their solutions while supporting local action consistent with state and federal water quality initiatives.
For information on current FLLOWPA water quality programs in member counties of interest to you, click on County Programs.
The Water Resources Board has its own annual plan of work to assist with communication among member counties and other agencies, organizations, and individuals with an interest in water quality. FLLOWPA full board meetings are held twice a year to discuss techniques in water quality management. Conferences are held, as necessary, to promote dialogue among FLLOWPA members, partner agencies and organizations, academia and communities on the future of the region and the important role of water resources. Conferences are often co-sponsored by with key partners. Representatives from many local organizations and state agencies have assisted in the planning and organization of these events, ensuring the relevance of the program and helping us to meet information needs. Resources stemming from some of our conferences can be found under Publications and Links. The FLLOWPA website, managed by the Water Resources Board, is intended to provide information on FLLOWPA and the local programs and activities it funds.